(1)structure and transport:machine length 9m,transported by crawler type,and both sides moved wrapping width by motor. Structure designed and machined carefully,which promise the stability. Transport motor speed controlled by frequency governor. front and back crawlers are made of 2 chains and a set of support wheels, those 2 crawlers are drive by same one drive shaft,so promise drive stability. Also drive in forwarder and backward.
This machine equipped 4 circular dust collector and heating device in front.
(2)Equip both sides moving device for wrapping support and shaping assistant: equip two units separately and movable 400mm support, and open/close with crawler type.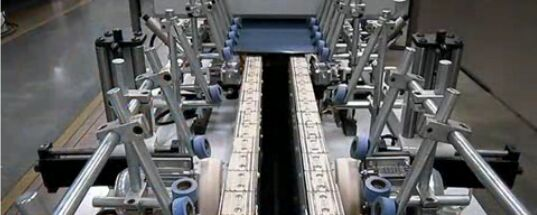 those support are placed both sides where nearby press roll, and adjusted according to board size fast. Adjustment is automatically and moved by separated motors and counters. just need input numbers on touching screen.
(3) frequency governor control feeding forward and backward speed.
electronic parts:take Taiwan PLC and frequency governor,control system, electronic parts,motor and reducer are domestic.
(4)This device equipped a outside shelf that afford 1260mm material roll. This shelf can support material roll in middle of machine. And material roll equipped air break.
nozzle got 4 air cylinder behind, they are for adjusting spreader closing to material, which about 15 angle degree.separate
roll can afford 400mm roll material.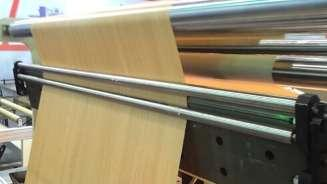 (5)Adhesive slot nozzle: it is machined accurately,work length 1260mm. And standard equips 100 sets press wheels and bars.
(6) All spareparts surface connected with adhesive is coated by Teflon, convenient for cleaning and repairment; slot nozzle get easy-replaced 0.3mm adjustable unit and adhesive valve controlled by outside air cylinder, also handler for convenient replacement.
Attention:adhesive pipes valve controlled by outside air cylinder;there are 2 input pipes from every end. And equipped 2 pcs 150mm horizontal presser, length 700mm,hardness 40.
(7)press roller
Press roller made of red silicone which above transporter roll, press on product surface, so improve bonding material on board. Every unit press roller is fixed on both sides of machine and height adjustable manually which showed in numbers. There are iron transport roll support press roller behind which controlled by frequency governor.
(8)Operator security system: installed emergency stop ripe on each side of machine, and a emergency button on control board, and a security network outside of adhesive box.
(9)separately electric box, PUR coating amount controlled by PLC, which touchable 120x90mm.